Review in The Irish Times by Siobhán Long
The musical embodiment of the meaninglessness of borders, Anna Falkenau and Lena Ullman are a German/Swedish duo who live and breathe a rich mix of American Old Timey, Irish traditional and, in Falkenau's case, south Indian influences.
Ullman is truly the girl from the north country, her high lonesome voice aching with the troubles she recounts on her own Blueberry/Snowdrop and the utterly contemporary Homeless. The pair's marriage of fiddle and banjo sits perfectly in their chosen musical landscape, where the raw bar glistens in all its free-spirited, unadorned glory.
Falkenau's compositions are beautifully quirky, full of unexpected twists and turns, and her Apatchy Hunting in the Garden is a masterclass in imaginative playing and tune-christening alike. An ear-whispering collection that lingers long after their reading of Charlie Lennon's beautiful Easter Snow fades. (****)
ANNA FALKENAU AND LENA ULLMAN
I Can Hear You Calling Scroll Music SM1701 Anna Falkenau and Lena Ullman's album I Can Hear You Calling is an eclectic release combining traditional Irish and Appalachian Old Time music, with Ullman's Swedish roots and Falkenau's South Indian influences. Despite having played together for many years, this is the duo's first recording, featuring a mix of traditional and original works showcasing the interconnectivity of the two musicians. Falkenau and Ullman open the album with Chilean Horseman, an energetic number exhibiting Falkenau's virtuosic fiddle playing, indicative of her involvement in the US East Coast Trad scene, and Ullman's driving Old Time clawhammer banjo style. The record continues with an original by Falkenau, Apatchy Hunting In The Garden, another rhythmical, lively tune with added moments of spontaneity and a live session feel. As the fiddle's last note lingers Ullman's unaccompanied voice begins her take on the traditional Red Rocking Chair delivered with an emotional, raw vocal aesthetic. Similarly, Ullman's vocalisation, rich in Appalachian style, sings the second traditional song of the record, Black Jack David, an expressive rendition with sparse, yearning harmonies. Packed between these two and displaying the duo's rich cultural influences, is a curious tune from Ullman, Waiting For Anna. Beginning with an unusual use of South Indian-style playing from Falkenau, it transitions into Swedish polka with Ullman's relentless banjo playing supporting throughout. Moving towards the end of the album, Ullman's voice is heard for the final time in Homeless, a chirpy tune swaying and flowing into our ears much like the rivers she sings about. The record finally glides into Easter Lambs, a moving piece, more classical in style but in keeping with the overall aesthetic of the album, bringing the record to a peaceful and reflective close. Other highlights include another vocal number, Blueberry/Snowdrop; an unusual original in a ragtime style Fog; and an additional roaring traditional Goodbye Girls. Overall, brought together through years of sessions and collaboration, this raw album delivers a live, organic feel in both the playing and recording quality. Falkenau and Ullman have produced a distinctive and mature refinement of their shared creative pursuits and varying musical sensibilities.
Amy Hollinrake Tune
Review in The Irish Music Magazine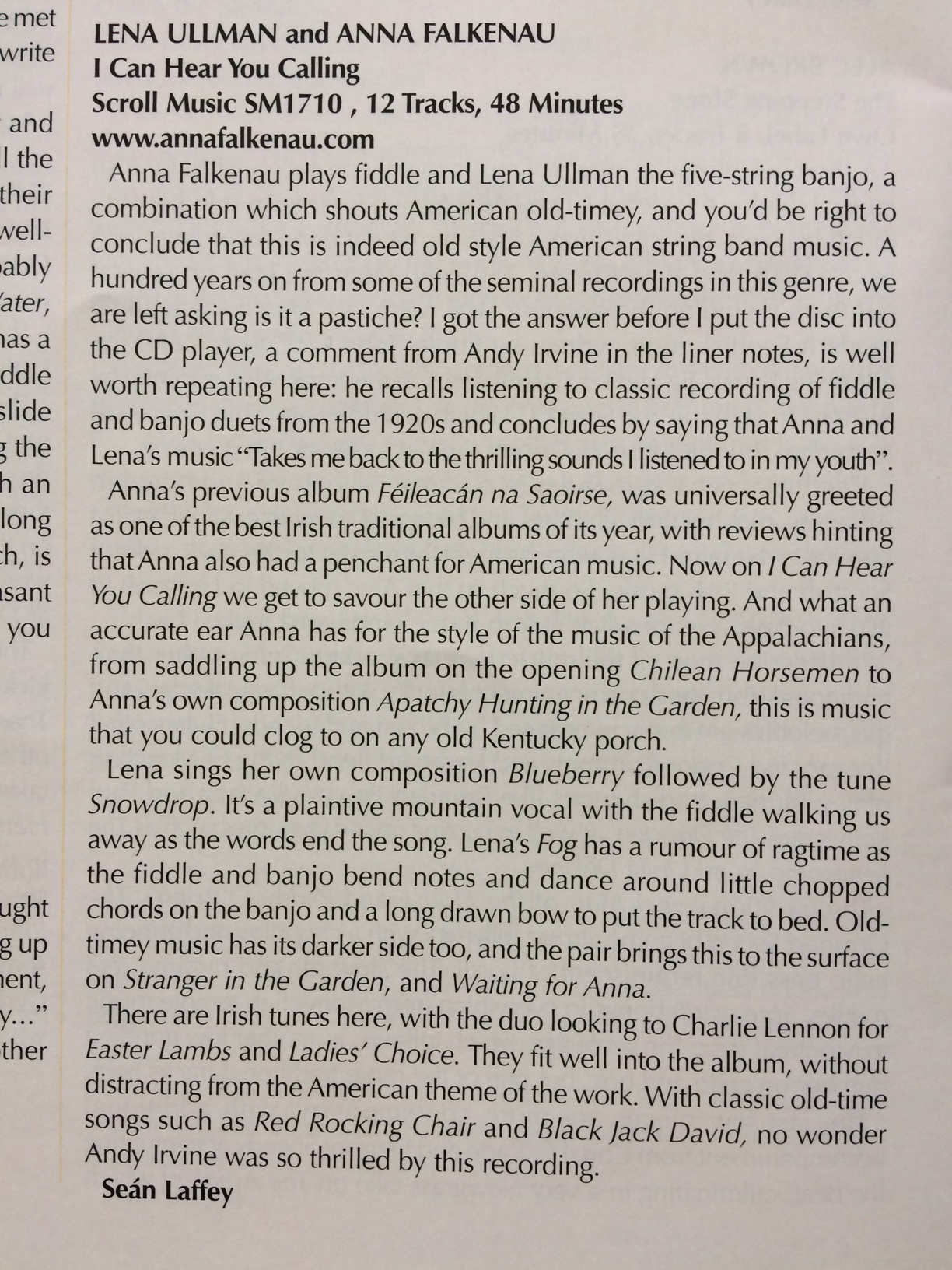 Review – I Can Hear You Calling – Lena Ullman & Anna Falkenau
On this wonderfully inventive new CD, Lena Ullman (banjo & vocals) and Anna Falkenau (fiddles) offer up a magical interpretation of Old-Timey and Irish Traditional, along with a number of compelling original compositions. The playing throughout manages to combine a wholly natural, yet meticulous attention to detail on the one hand with a playful freedom of expression on the other. Some songs and tunes appear in more unusual keys (Homeless, Black Jack David) and result in delightfully subtle nuances of tone and texture. Extending out from this inventive approach are such exotic flights of fancy as the gorgeous jazz tinged tune Fog, the evocative Stranger in the Garden and the incorporation of Anna's accomplished South Indian fiddle playing on the magnificent Waiting for Anna, aided and abetted by some tricky sounding riffs too from the banjo. As a counterweight to all this joyful extravagance, other tracks begin with simple yet haunting melodic patterns (Blueberry /Snowdrop) which immediately anchor the music and pull you into a shared intimacy with the players. Then, as on several tracks, (Blueberry, Red Rocking Chair, Homeless, Black Jack David) Lena's distinctively pure and poignant vocals are added into the mix. The overall result is a showcase for innovation and virtuoso playing. It will be hard to find a more energised fiddle-banjo combo than on Chilean Horseman or playing as exuberant as on Apatchy Hunting in the Garden. A richly fertile musical partnership tuned in to one another's style of playing; and most certainly a case where left and right hands really do seem to know what the other is doing.
Pete Mullineaux – author of Session –poems inspired by Irish Traditional Music, Salmon Poetry.
Lena Ullman & Anna Falkenau "I Can Hear You Calling"
Oldtime banjo and fiddle from this duo: Lena and Anna are equally proficient in Irish traditional music, and there is a bit of Irish mixed in here, but I Can Hear You Calling is mainly new compositions in the oldtime style. Both write great tunes – Falkenau's Apatchy Hunting in the Garden and Ullman's Waiting for Anna are good examples. Ullman also had a hand in all four songs here, whether writing the whole thing or just the melody. Black Jack David is a version of The Raggle Taggle Gipsies, while Homeless is a new song by Ullman about one of the big issues in contemporary America and Ireland.
Both Ullman and Falkenau have adopted Ireland as their home after growing up in Sweden and Germany respectively. Ullman started on the five-string banjo in Sweden, but has been absorbing Irish music since the 1970s. Falkenau is a more recent convert, and also spent time in Connecticut with the backwoods players, so the shared experience of the duo spans Irish, oldtime and Germanic styles.
The sound this pair produce is quite old-fashioned, raw acoustic instruments with little post-production, just the two musicians with no backing track, and plenty of old modal cadences somewhere between major and minor on most tunes. I Can Hear You Calling raises the hairs on my neck at times, that primal edge on the fiddle particularly. The final Easter Lambs by Charlie Lennon is quite a contrast, a stately air with an almost baroque feel, Ullman's banjo taking the role of a Vivaldi or Telemann mandolin as Falkenau switches to German or possibly Swedish smooth technique in the manner of a 19th century town fiddler. If fiddle and banjo is your thing, you should definitely give this CD a listen.